Exposition solo – Envers des Contours, 2017
La Serre, Saint-Étienne
soutenue par La Ville de Saint-Étienne / supported by the City of Saint-Étienne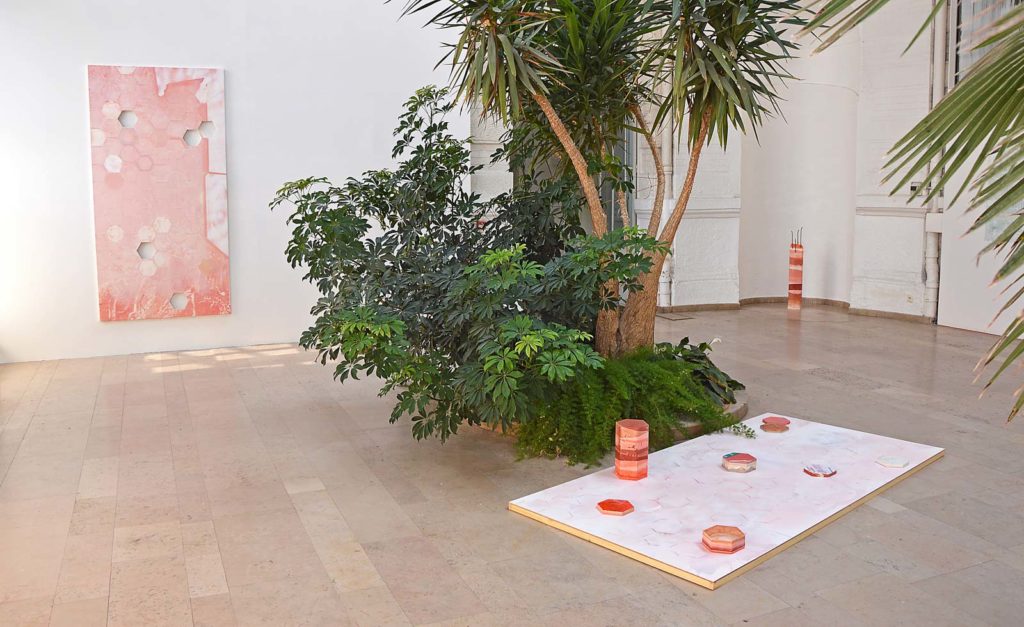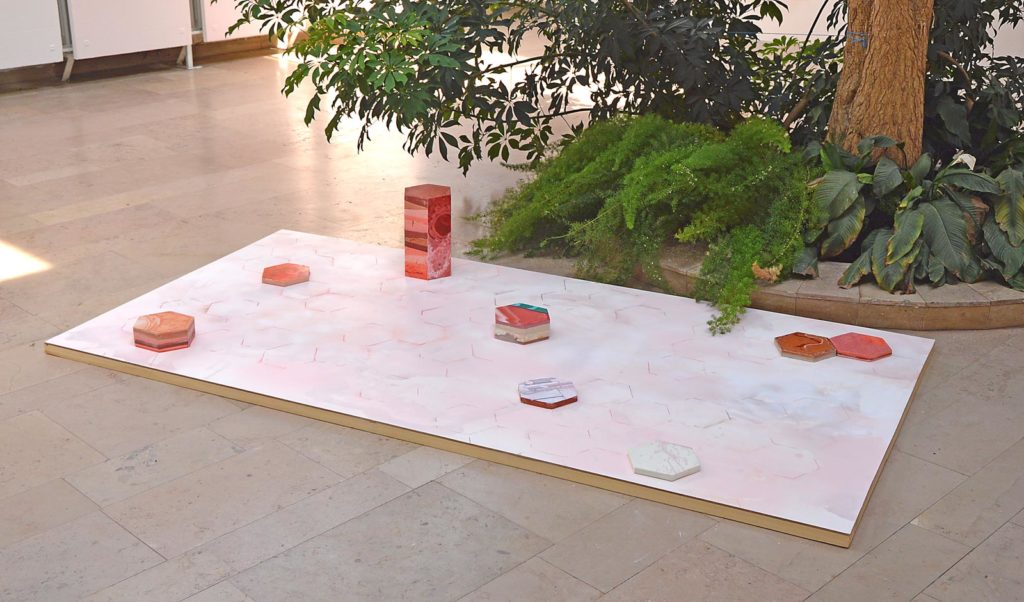 Sous revêtement / Under surfacing, 2017
acrylique, huile et pastel sur medium et plâtres pigmentés / acrylic, oil and pastel on medium and pigmented plaster
3 x 240 x 122 cm, dimensions variables


Sous revêtement, détail



Forme et asso, 2017
acrylique, huile, et bombe sur bois, 237 x 121 cm
peinture collaborative réalisée avec l'association/collective Les Ateliers, Clermont-Ferrand

Une dizaine d'intervenants ont peint chacun un hexagone sur ce panneau, construisant ainsi le motif d'un sol, tissant un canevas de lignes donnant une structure visuelle. Même si le support a subit quelques violences, comme des trous donnant sur le mur derrière, la structure reste intacte à l'instar d'un nid d'abeilles : une des formes les plus solide que l'on puisse trouver dans la nature.

/
Forme et asso, 2017
acrylic, oil, and spray paint on wood, 237 x 121 cm
collaborative painting with the artist association/collective Les Ateliers, Clermont-Ferrand

Ten contributors each painted a hexagon on this panel, constructing a motif referencing floor tiling, weaving a fabric of lines that made a visual structure. Though the support was subjected to gestures that threatened its substance, such as physical holes made in the panel that give a view of the wall behind, the overall configuration is left intact in the manner of a beehive, one of the most solid structures one can find in nature.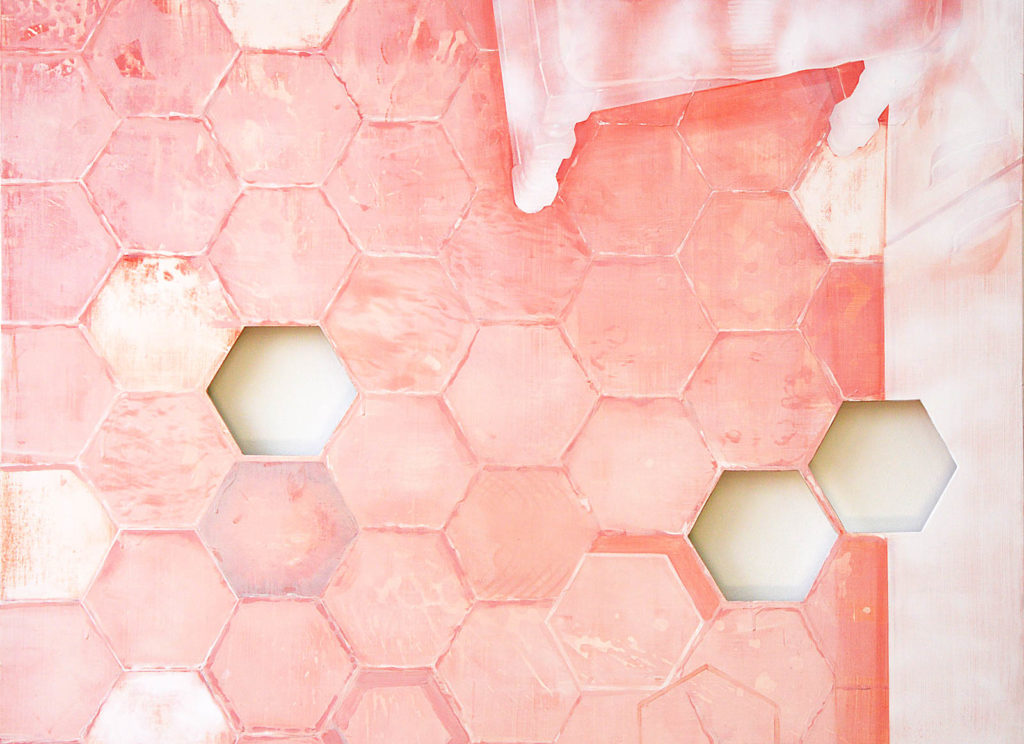 Forme et asso, detail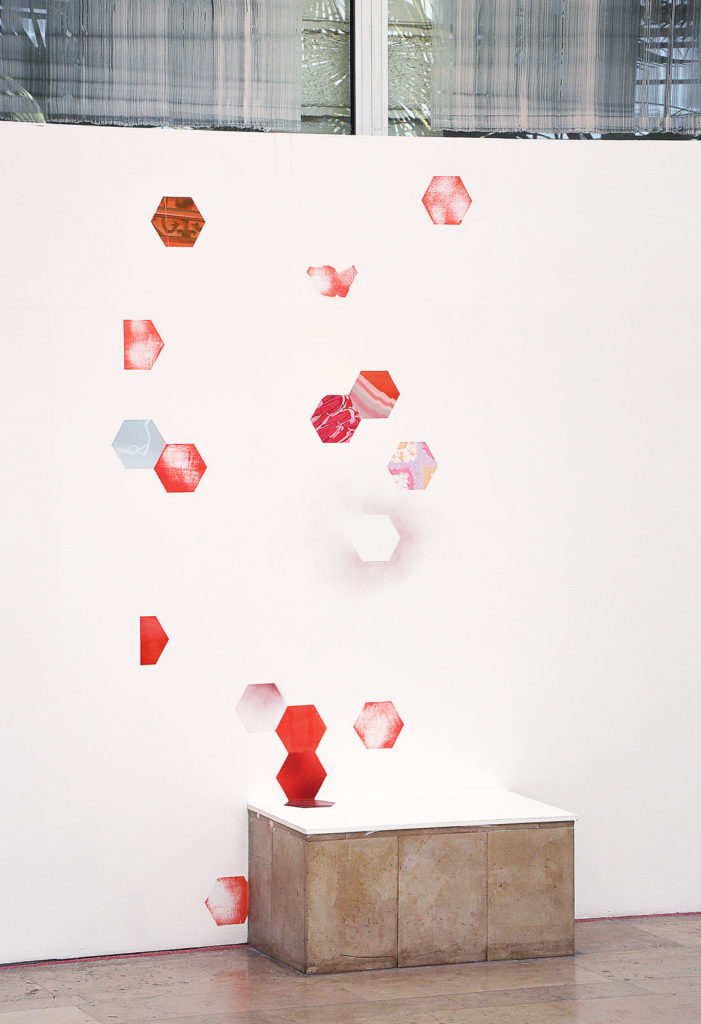 Déplacées, 2017
acrylique et huile sur mur / acrylic and oil on wall, 237 x 121 cm au total
détruite / destroyed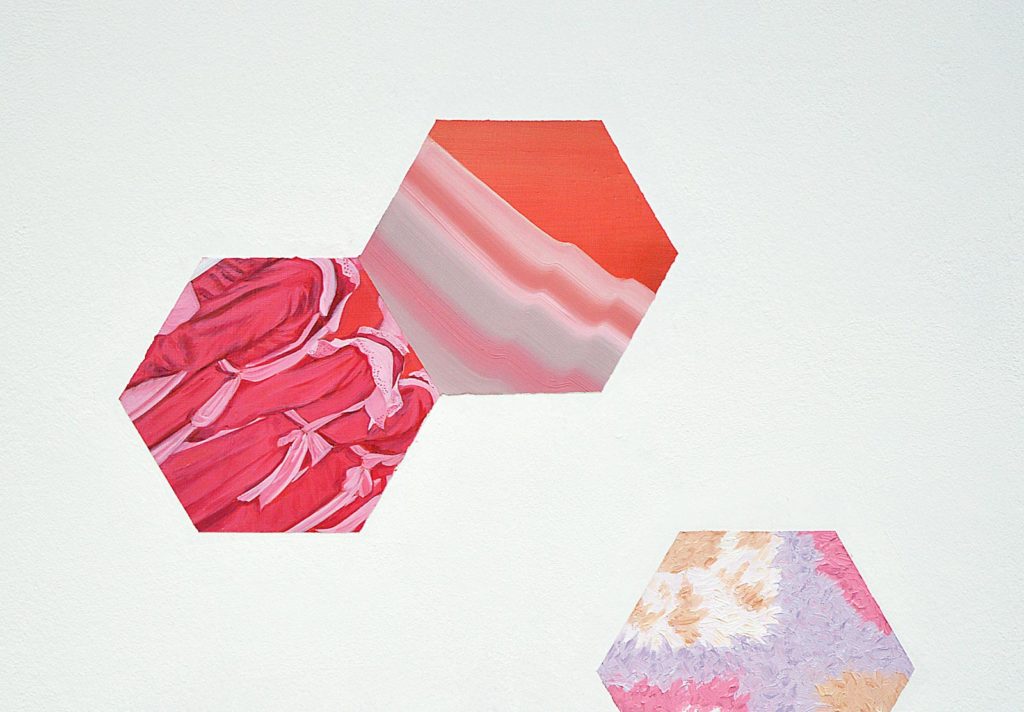 Déplacées, detail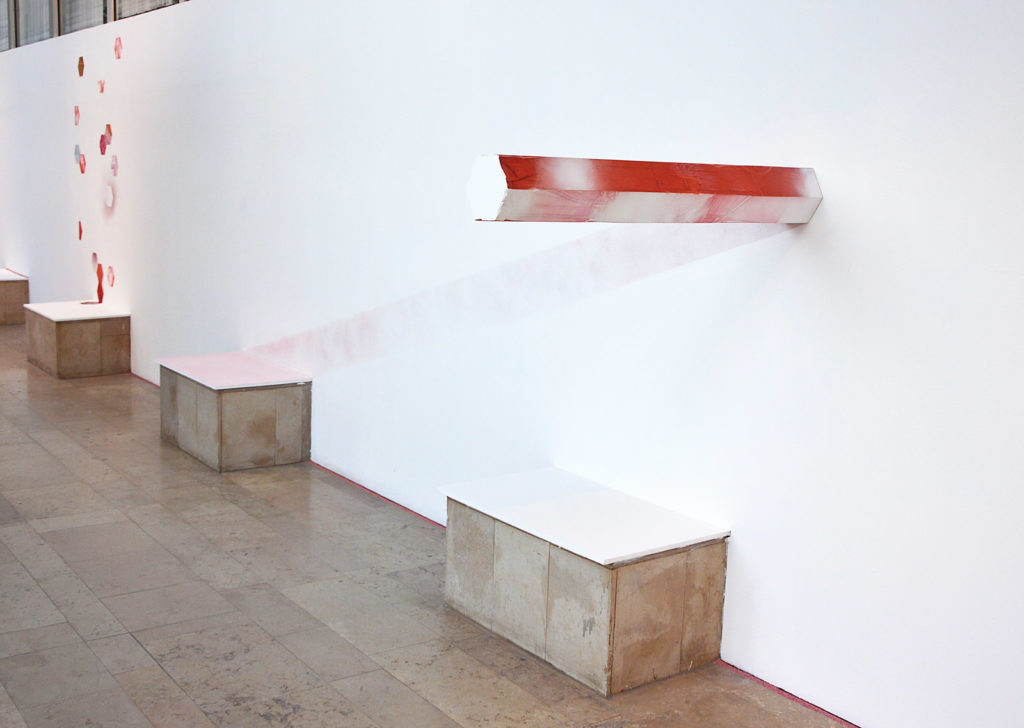 Six entours / Six surroundings, 2017
acrylique et huile sur carton, bombe de peinture sur mur et banc / acrylic and oil on cardboard, spray paint on wall and bench
16 x 18 x 115 cm, dimensions variables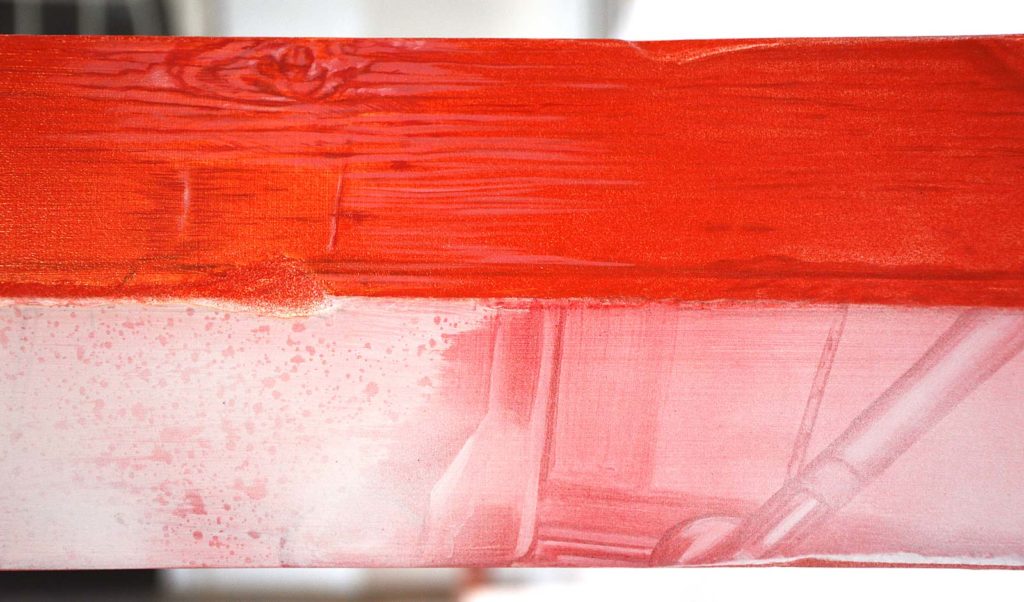 Six entours, detail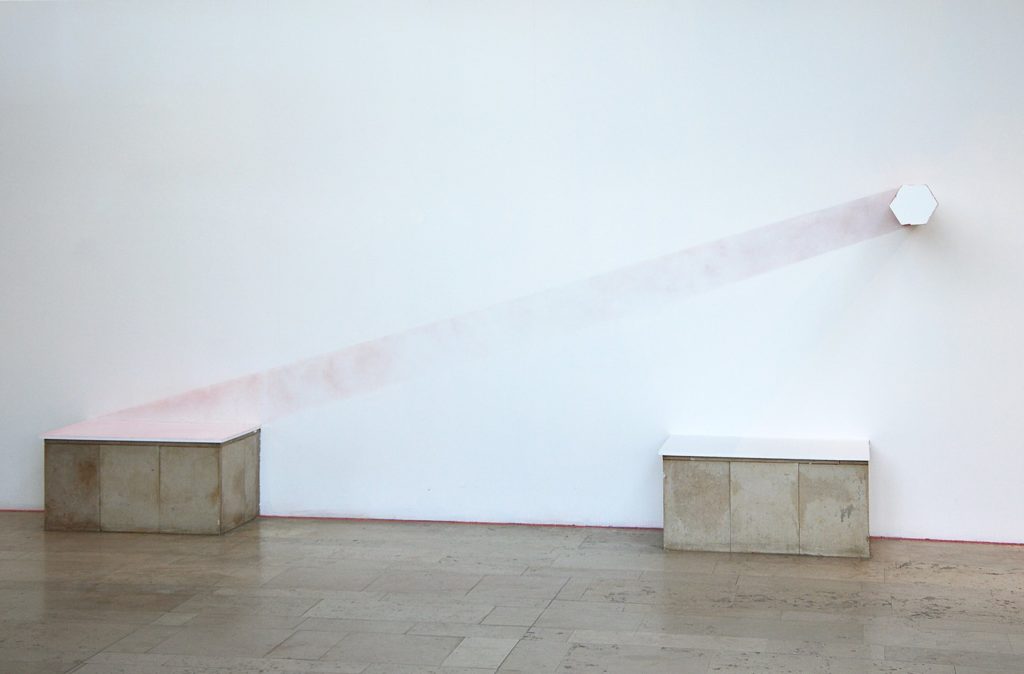 Six entours




Lignes rouges / Red lines, 2017
sable teinté à l'encre / dyed sand, 1400 cm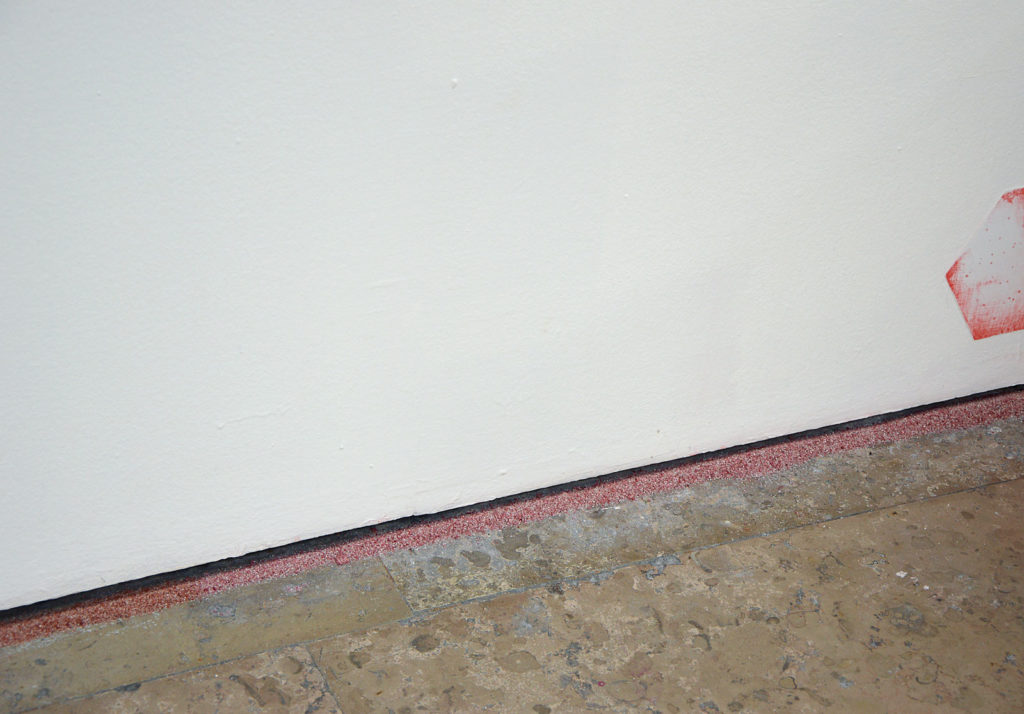 Lignes rouges, detail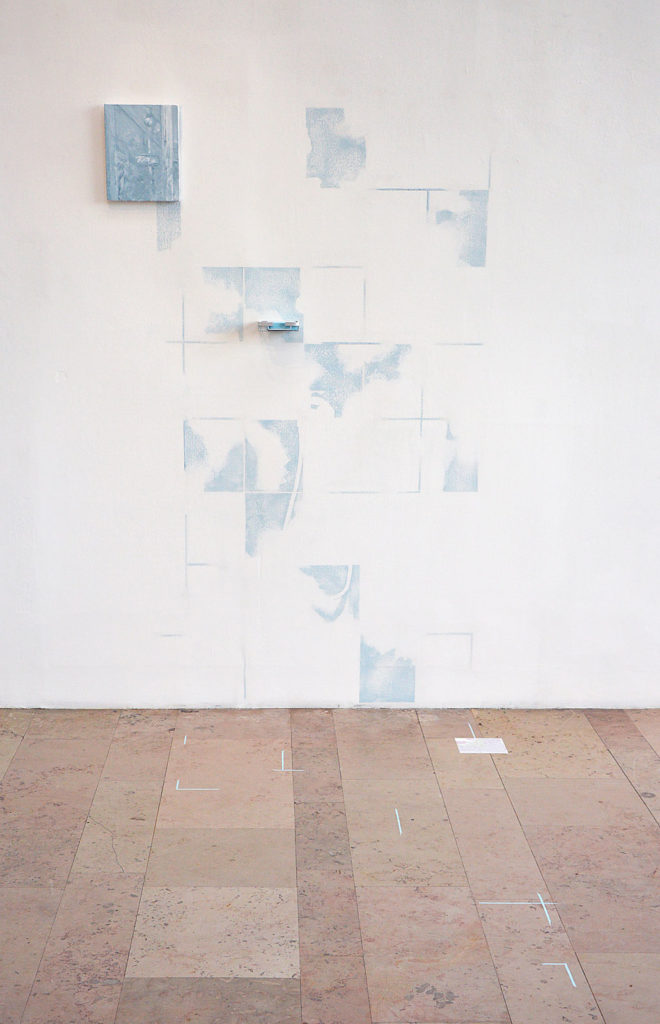 Tiles, 2017
acrylique sur cloison, huile sur toile, acrylique sur vinyle, porte-savon, savon bombé / acrylic on wall, oil on canvas, acrylic on vinyl, soap holder, spray painted soap
210 x 110 cm, 30 x 24 cm, dimensions variables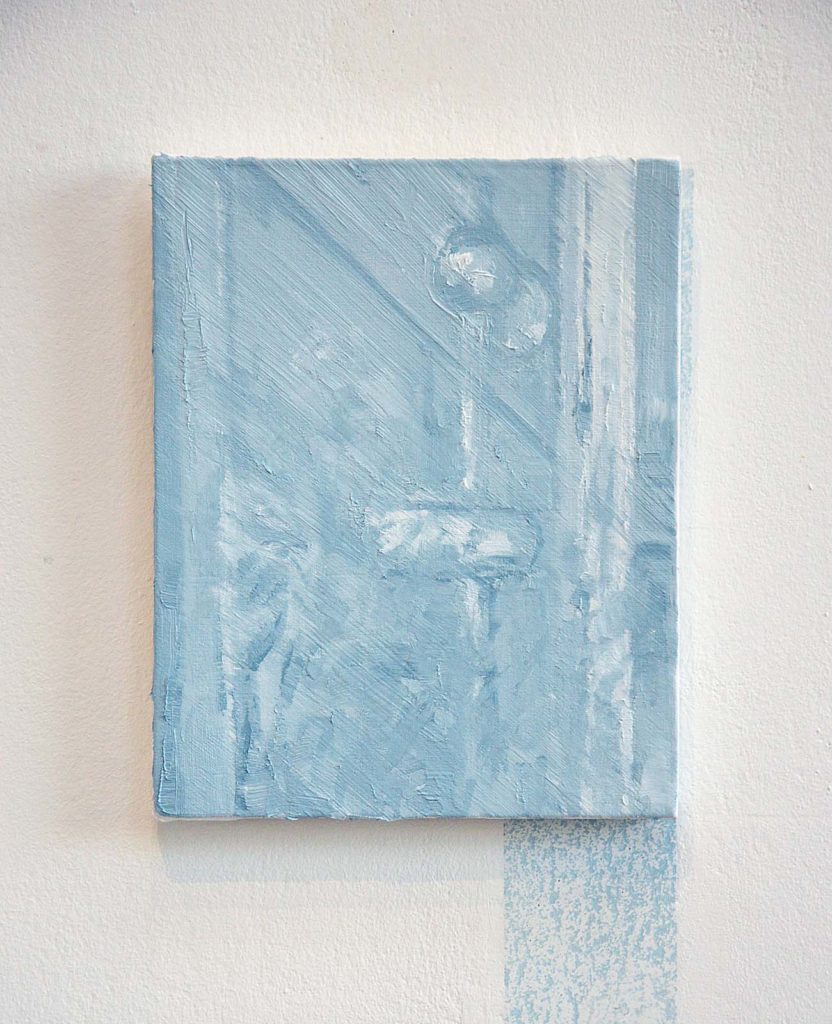 Tiles, detail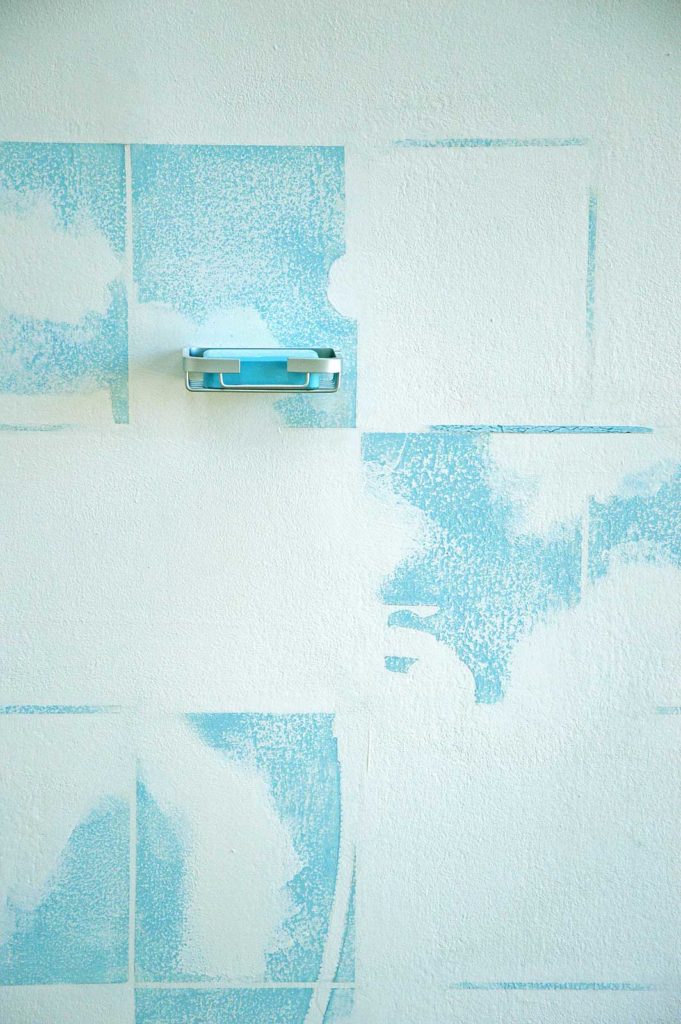 Tiles, detail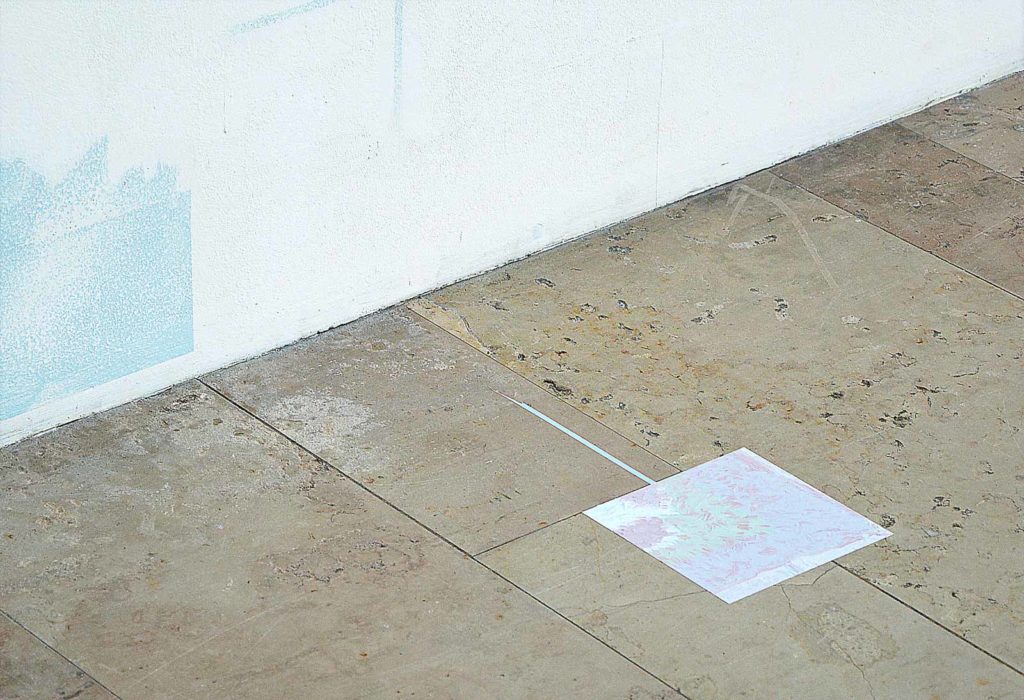 Tiles, detail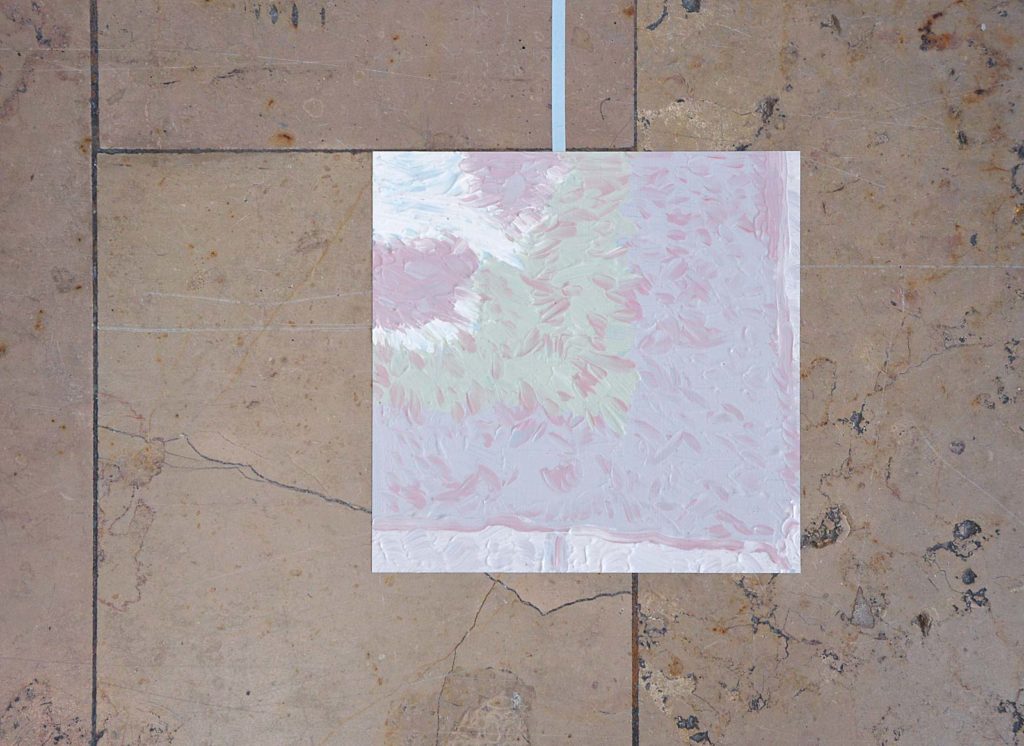 Tiles, detail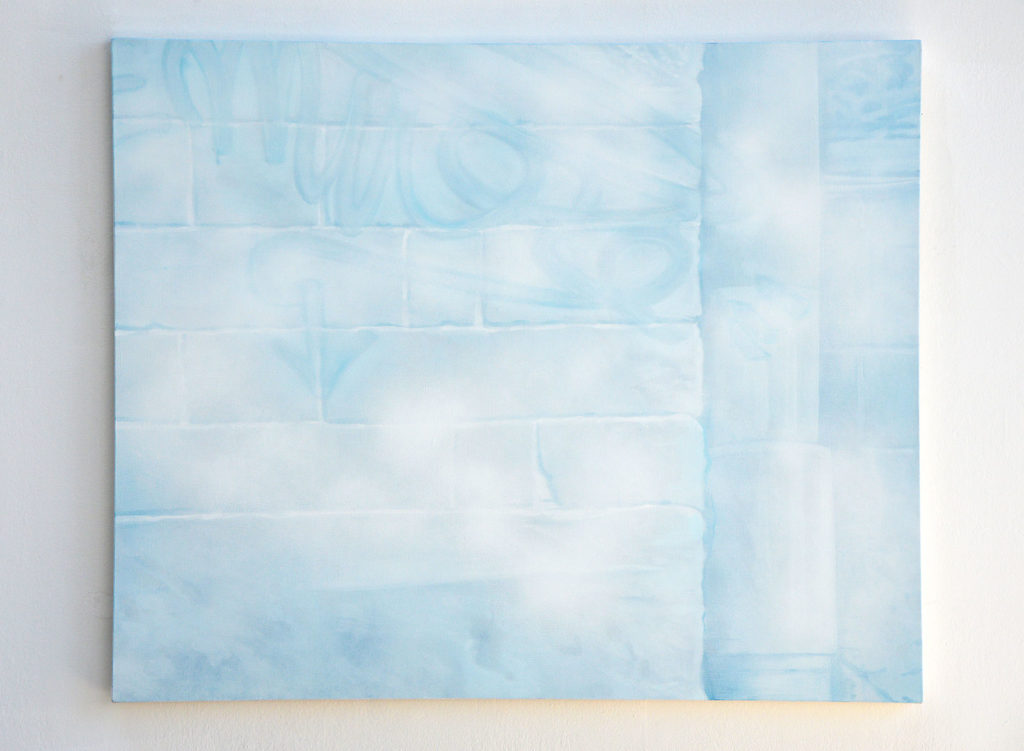 Writing down, 2017
acrylique et bombe sur toile / acrylic and spray paint on canvas
90 x 110 cm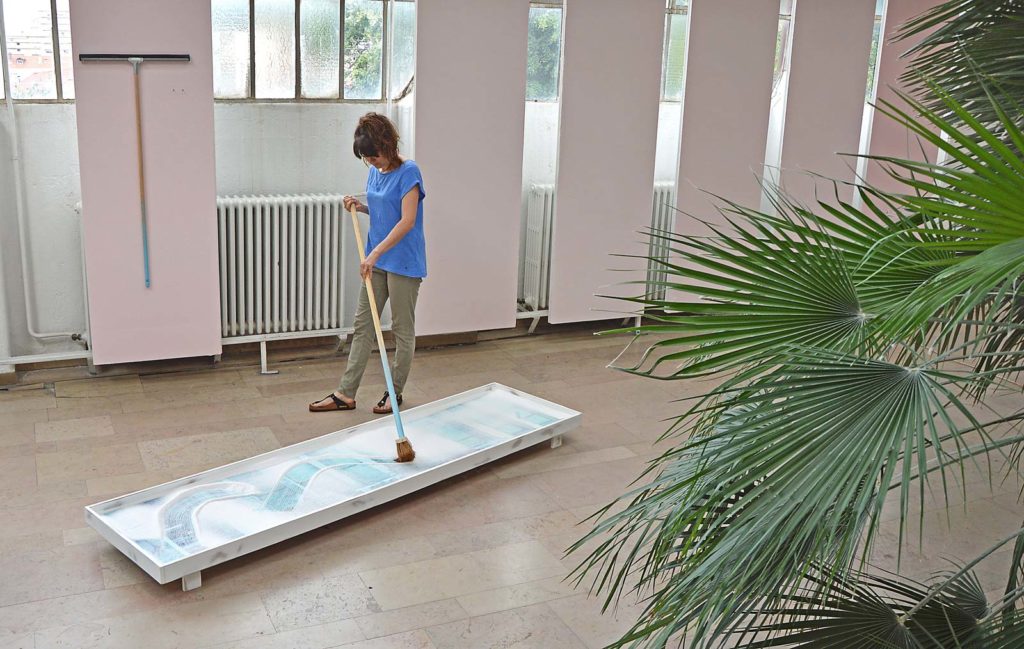 Salt room, 2017
acrylique sur medium, balai modifié et raclette de sol bombés
17 x 246 x 64 cm, dimensions variables

Les observateurs de cette exposition ont été invités à intervenir dans cette pièce : tracer des lignes dans une couche de sel, créant des ouvertures pour révéler les fragments d'un tableau. Les outils ont été choisis pour leur usage dans la vie domestique, surtout pour leur rapport avec des rituels de nettoyage et ramassage de poussière : trace de la dégradation de la nature et des corps humains. Le geste pratiqué par les participants est devenu quelque chose de non seulement méditatif, mais aussi inventif.

/

Salt room, 2017
acrylic on medium, modified broom spray painted with squeegee, salt
17 x 246 x 64 cm, various dimensions

Visitors to the show were invited to intervene in this piece by drawing lines in a layer of salt, making openings to reveal fragments of a painting. The tools were chosen for their use in domestic life, especially for their relation to rituals like cleaning up dust: traces of deterioration in nature and of the human body. The act of the participant becomes not only meditative, but also inventive.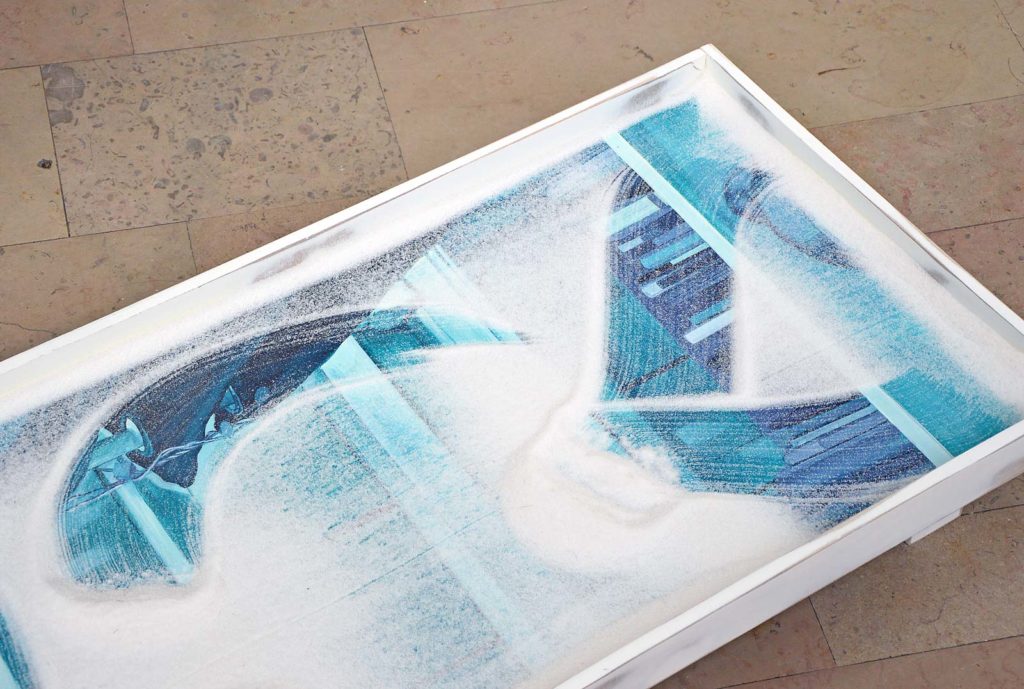 Salt room, detail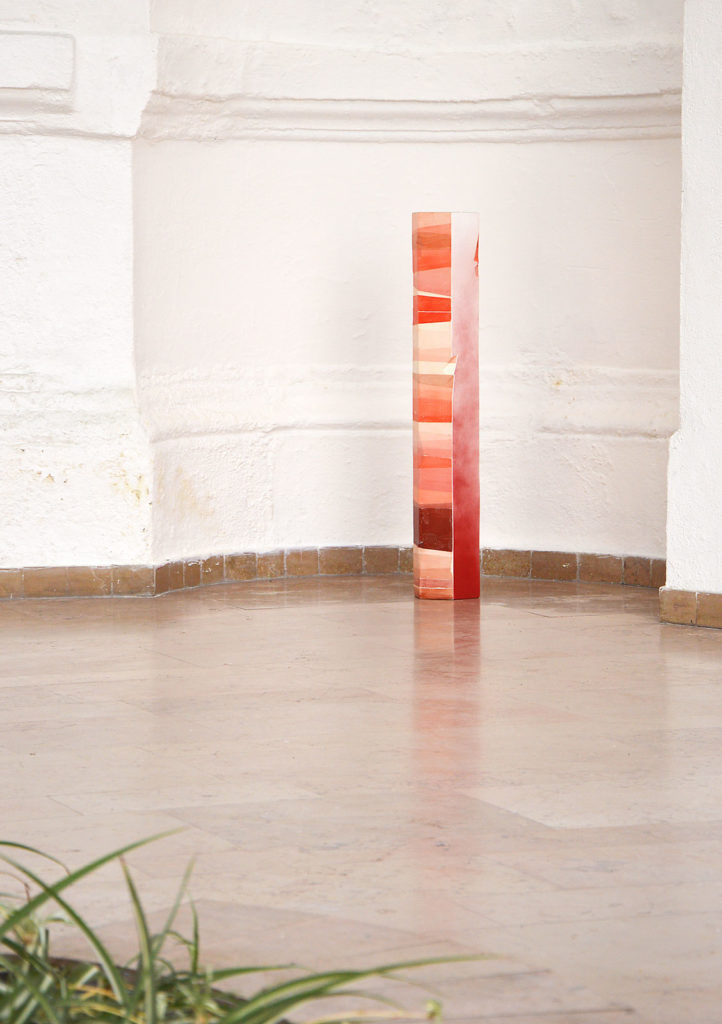 Tommette cassée / Broken tile, 2017
acrylique et huile sur plâtre pigmenté / acrylic and oil on pigmented plaster
96 x 18 x 16 cm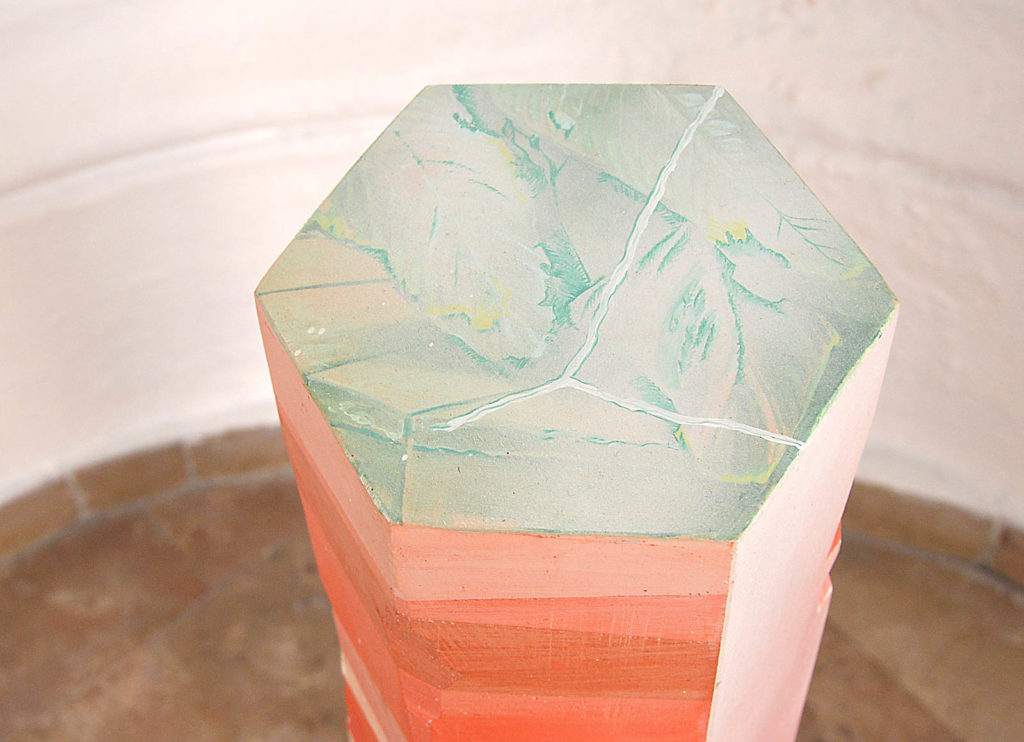 Tommette cassée, detail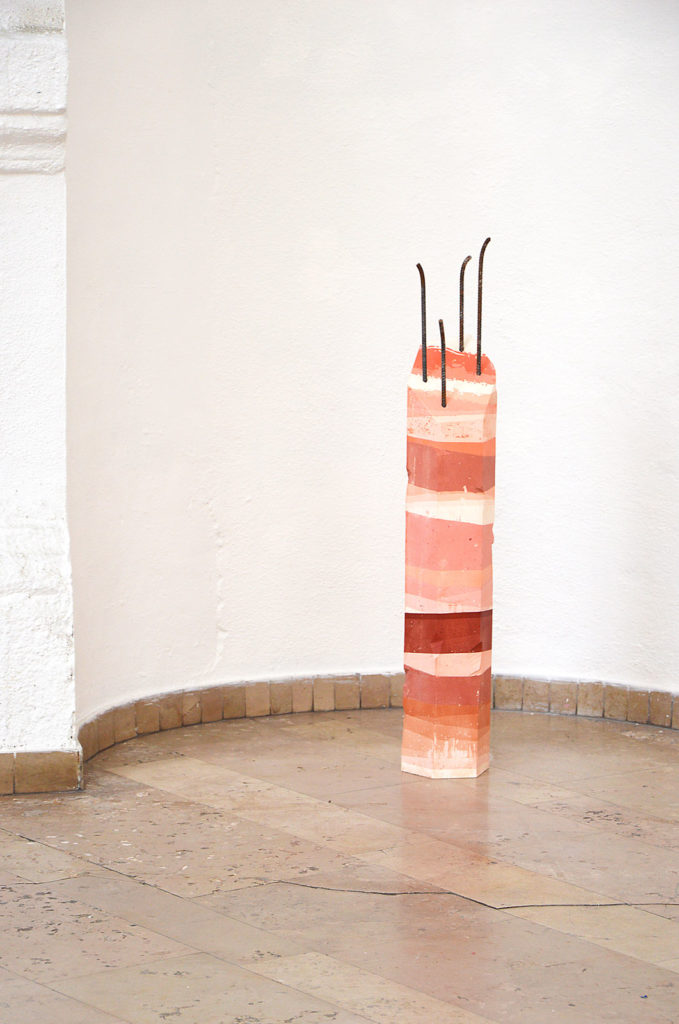 Tommette armée / Reinforced tile, 2017
plâtre pigmenté et fer / pigmented plaster and iron
87 x 18 x 16 cm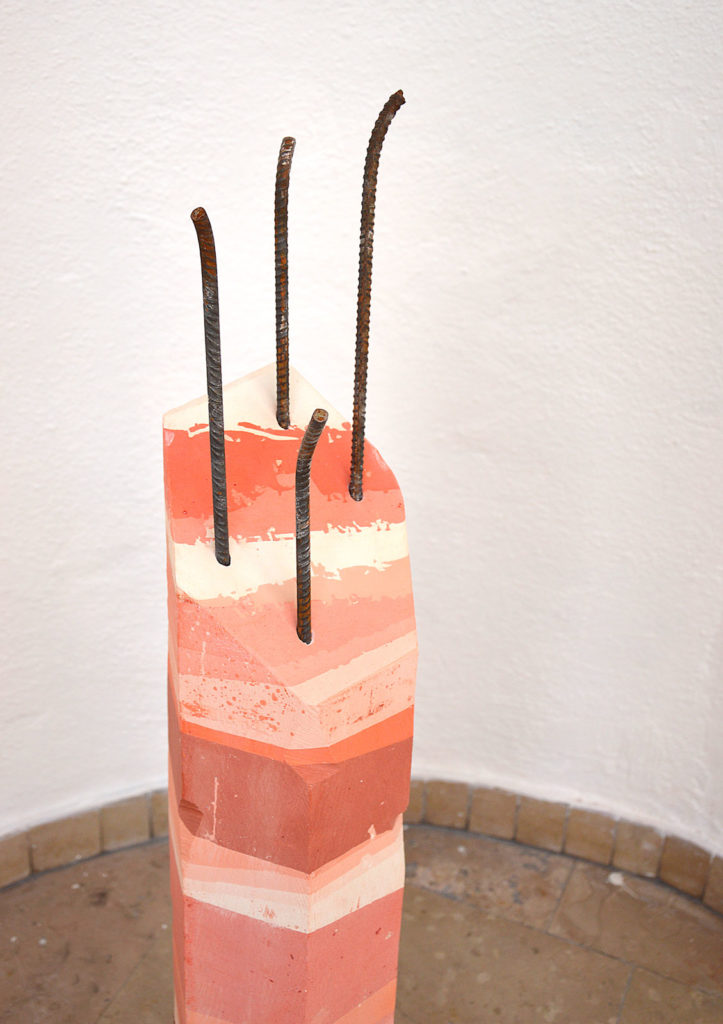 Tommette armée, detail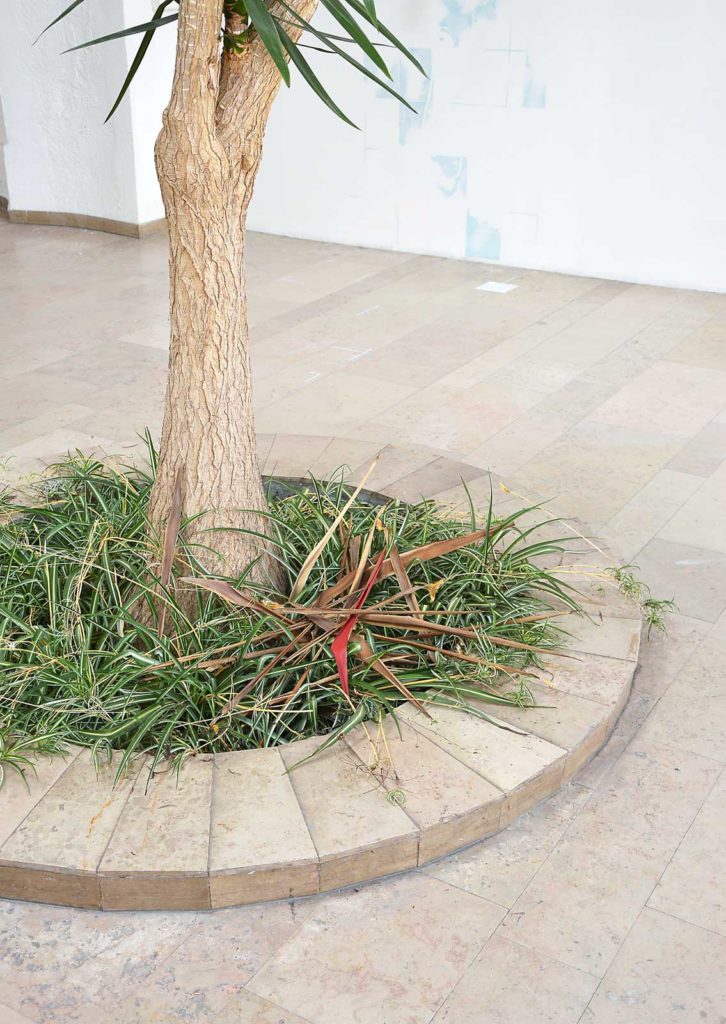 Chutes / Scraps, 2017
feuilles de palmier, bombe de peinture / palm leaves, spray paint
dimensions variables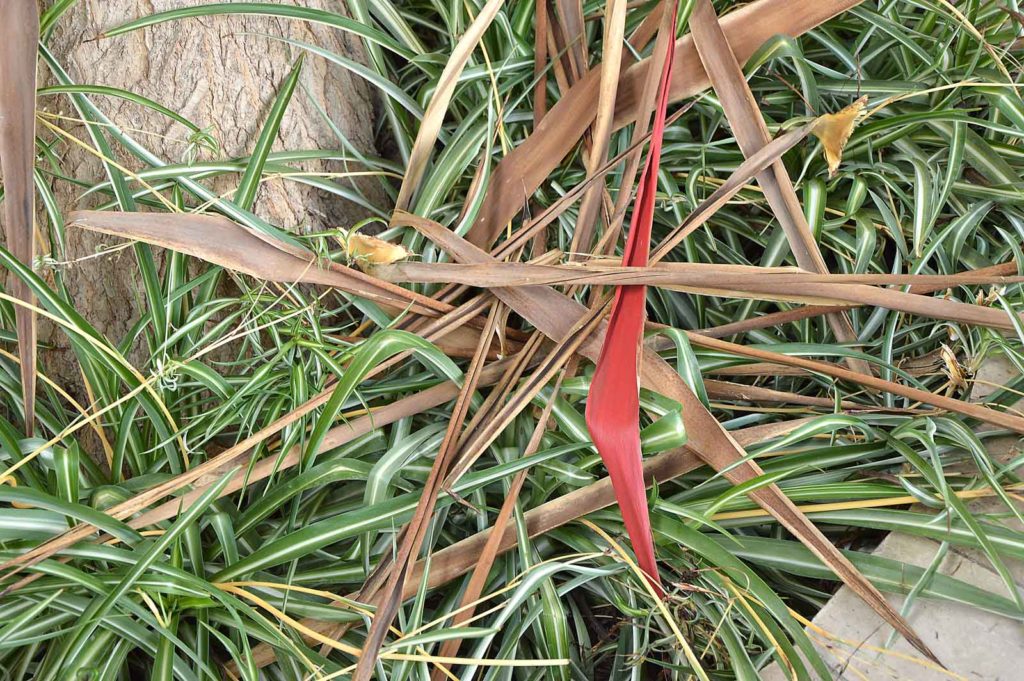 Chutes, detail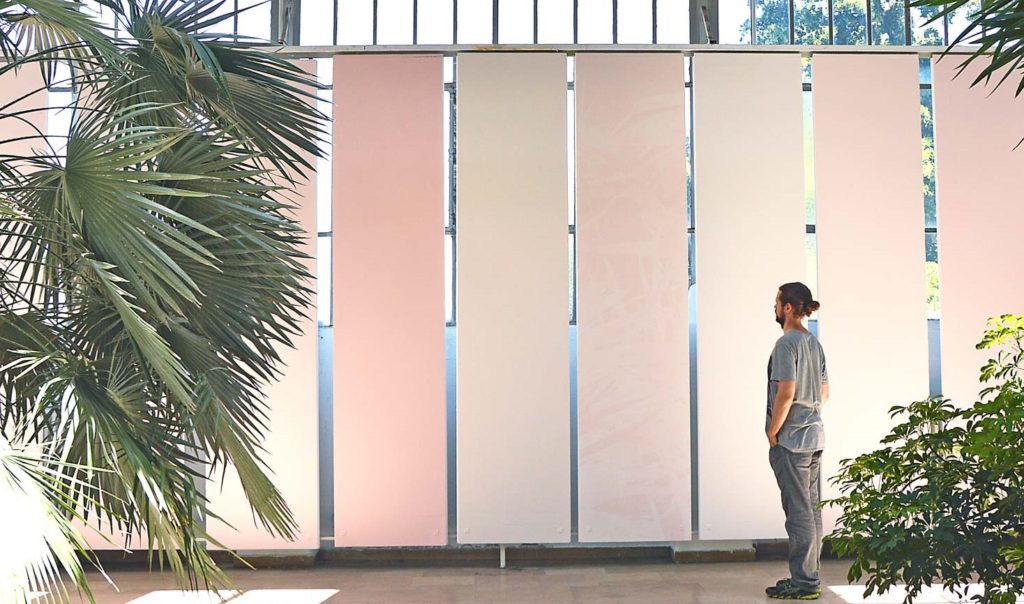 La rémanente, 2017
acrylique sur 11 panneaux amovibles, 330 x 1000 cm au total

La disparition a été un sujet important pour cette exposition à La Serre. Cette peinture éphémère a pour thème les feuillages du contexte, avec une représentation conçue par des essais de fatigue rétinienne expérimentés dans cet espace. Pour arriver au terme de cet effet visuel, cette peinture a été effacée, recouverte de blanc à la fin des cinq semaines d'exposition.

/

Persistence, 2017
acrylic on 11 movable panels, 330 x 1000 cm total

Disappearance was an important subject for this exhibition at La Serre. This ephemeral painting is based on the leaves in context, with a representation informed by an experience of retinal fatigue in the space. To push this visual effect to its term, the painting was erased, covered with white at the end of the five-week show.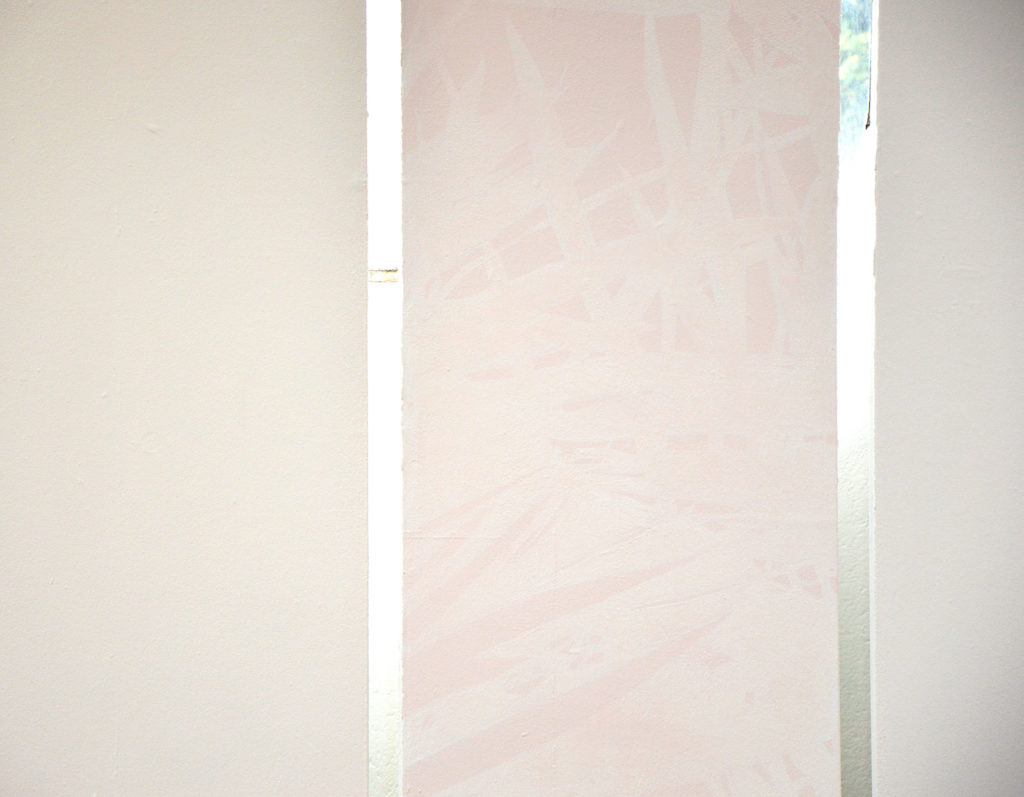 La rémanente, detail